Filter by Category
Adult Classes
Bare Bones
with Jennie Lynn Godfrey

Jul 10, 2023 at 7 pm

, runs for 6 weeks
Bare Bones | Intro to Acting for Total Beginners
Mondays 7:00-8:30pm | July 10 - August 14, 2023
If all the world's a stage and all the men and women in it merely players, then you had better learn what you're supposed to do! 
This 6 week class is perfect for adults with little to no theatre experience, or if you have been out of practice for a while. Students will learn the basics of stage directions, using the body to create characters and bringing scenes to life, all while meeting new people and playing fun theatre games.
For more about your instructor: Jennie Godfrey Teach Bio
Improv Class
with Siouxsie Easter

Jul 11, 2023 at 5:30 pm

, runs for 6 weeks
Improv | Adult Class for All Experience Levels
Tuesdays 5:30-7:00pm | July 11 - August 15, 2023
Whether you have no acting experience, or years on the stage, improv classes are a great way to have fun and exercise your creativity! We will learn and play with both short and long form improvisation. Regularly playing improv games helps with public speaking, mental focus, spontaneity, stage fright, creativity, and getting out of work mode and into play!
The last session is a performance in the Evie Theatre.
For more about your instructor: https://www.stagewest.org/teachers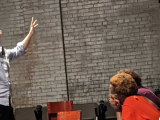 Meisner 1: The Reality of Doing
with Douglas Davidson

Jul 11, 2023 at 7 pm

, runs for 6 weeks
Sanford Meisner's name is synonymous with an acting technique that offers students a concrete, step-by-step approach to achieve the goal of the actor: "living truthfully under imaginary circumstances." In his long career, he taught several generations of actors this technique, including many Academy, Tony, and Emmy winners, designed to be applicable to any challenge they would face.
We will practice Meisner's Foundation Exercises: Repetition, Independent Activity, and The Knock on the Door and learn Key Concepts like "Preparation" and "As-Ifs." This course aims to help actors of all experience levels:
Feel empowered to create vibrant characters by connecting to their uniqueness.
Find permission to fully respond, moment to moment, to the text and to other actors.
Share that truthful response with the audience.
"The foundation of acting is the reality of doing.'"– Sanford Meisner.
For more about your instructor: http://stagewest.org/teachers#douglas
Payment plan available: $100 deposit plus 1 payment of $95.00, paid weekly.