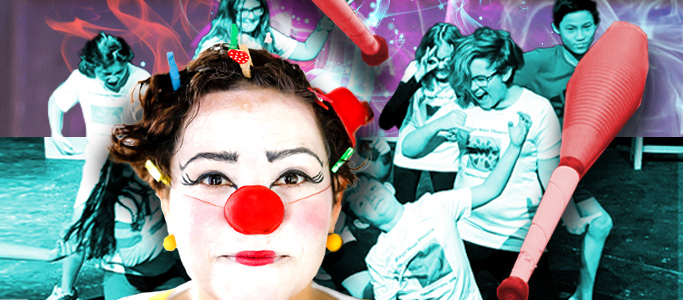 SHOWSTOPPERS Full Day Camp Ages 8-12
with ShaVonne Davis and Aaron Dias
$37500
Theatre Arts Summer Camp for Ages 8 -12
A dynamic day of theatre arts education with various wonderful instructors. In the morning you'll enjoy learning new physical skills. In the afternoon you will enjoy making friends, practicing and performing with a youth improv and acting troupe!
9am-12pm Stage Magic!
Physical Skills Summer Camp with Aaron Dias and Guest Teachers. Want to learn special physical skills to wow an audience? Want to discover some fascinating trade secrets and connect with inspiring teachers? In this unique camp, students learn basic techniques of magic, mime, circus arts, and stage combat. Masters of theatrical illusion share special expertise, lead exercises, and offer one-on-one guidance. Students will wow their friends and family in a final talent show 11:30am on Friday, June 16th.
12-1pm Lunch Break + Theatre Games
1pm-4pm Power Performance
Improv & Acting Summer Camp with ShaVonne Davis. Develop the skills and confidence to give your best performance possible, even under pressure. Tap into your own unique gifts as a performer, and share them with the world! Through fun and inspiring drama activities, students become adept at improvisation, public speaking and interpersonal skills. Through rehearsing, studying, and finally performing scenes in front of an audience, students develop focus, work ethic, professionalism, and confidence. Through personal direction of theatre artist and youth educator ShaVonne Davis, students become better at developing, establishing and expressing individual characters on stage. No previous theatre experience required. 
Jun

12

-

16th

,

2023

Mon - Fri

for

1 week

from

9:00 am - 4:00 pm

Will run
Stage West Theatre
(682) 231-1668
821 W Vickery Blvd.
Ft. Worth, TX 76104 Get directions
Room: Evie + Fin