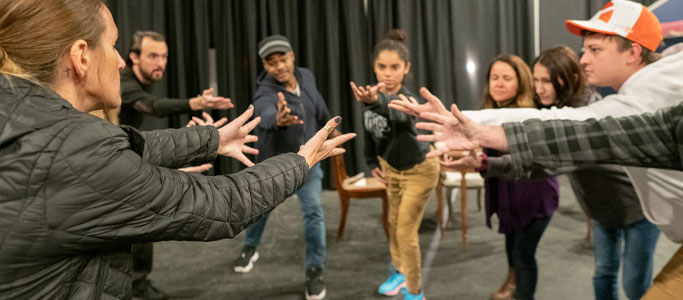 Stage West Performance Lab
with Douglas Davidson
$39000
Twelve-week immersive experience for students who have taken one or more Adult Acting classes at Stage West or have commensurate experience. Students will learn rehearsal and performance technique in a supportive environment as they work together to create a public performance at Stage West!
Learn how to:
Get the most out of first script readings.
Dig for clues about character before rehearsal begins.
Make dynamic choices about actions and relationships.
Find the music of the text, and explore vocal qualities.
Physicalize character choices.
Integrate choices with the choices of the director and fellow actors.
"Raise the stakes" when the director gives that note.
Safely access emotional life in a scene.
And much more…
The ultimate goal of this class is to create an ensemble of performers who continue to develop as artists and collaborators in future Performance Lab productions.
No class October 11 or November 22. 
Sep

13

-

Dec

13th

,

2022

Tue

for

12 weeks

from

7:00 - 8:30 pm
Stage West Theatre
(682) 231-1668
821 W Vickery Blvd.
Ft. Worth, TX 76104 Get directions